EMBASSY RECIPES
The Dimsum Box
1. sichuan pepper CremEaux


Ingredients:
Preparation:
- Heat the cream, milk, glucose and sichuan pepper. Infuse for 15 minutes, then strain
- Pour a little bit of the mixture into the egg yolks, then pour the mixture back into the rest of the milk and cream mixture. Heat until 83°C
- Pour the mixture on top of the chocolate
- Add the melted bloomed gelatin
- Mix using a hand blender until emulsified
- Keep in the freezer overnight
---
2. pumpkin seed pralinÉ


Ingredients:
Preparation:
- Boil the sugar and water until 110°C
- Add the pumpkin seeds, then stir it until the sugar is crystallized
- Pour into a food processor and blend until smooth
- Add the oil then blend again until smooth


---
3. pumpkin seed sponge


Ingredients:
Preparation:
- Mix sugar with egg yolk until fluffy
- Add water, cake flour and Pumpkin Seed Praliné and mix
- Make a meringue with egg white, sugar and vinegar. Whisk until medium peak
- Fold the meringue into the egg yolk mixture
---
4. orange fluid gel


Ingredients:
Preparation:
- Mix all the ingredients except neutral gel and orange segments until 100°C, pour into a tray then let it set
- Add neutral gel, then blend in a food processor until smooth
- Fold in the sliced orange segments

---
5. sugar dough


Ingredients:
Preparation:
- Cream the butter with icing sugar and salt in a mixing bowl using a beater
- Add in the eggs slowly, don't forget to scrape the sides of the bowl
- Add in the flours while mixing until well combined
- Cover the dough with plastic wrap and refrigerate for 30 minutes
- Roll the sugar dough as thin as possible (2-3 mm) in between 2 parchment paper
- Cut the dough into the shape of the tart ring and chill again for 10 minutes
- Brush the tart ring with butter
- Place the dough on a tray lined with Silpat and shape the sides of the tart dough to the tart ring
- Poke the dough gently all the way through with a fork
- Bake the tart at 160°C for 10 minutes and 150°C for 2 minutes

---
6. toasted coconut mousse


Ingredients:
Preparation:
- Heat the milk, glucose and toasted coconut, then infuse for 15 minutes and strain. Pour on top of the white chocolate
- Melt the gelatin, then add to the mixture
- Fold the whipped cream into the mixture
---
7. AssemblY
Preparation:
- Add the Sichuan Pepper Cremeux into the 16-cm diameter round cake mold and freeze it
- Pour the Pumpkin Seed Praliné and freeze it
- Add the Orange Fluid Gel and freeze it
- Put the Pumpkin Seed Sponge on top
- Cast the Toasted Coconut Mousse in an 18-cm ring mold
- Put all of the inserts into the Toasted Coconut Mousse upside down, then freeze it
- Demold the cake, and put it on top of the baked Sugar Dough
- Add the chocolate decoration made using Embassy Zen White Chocolate 33%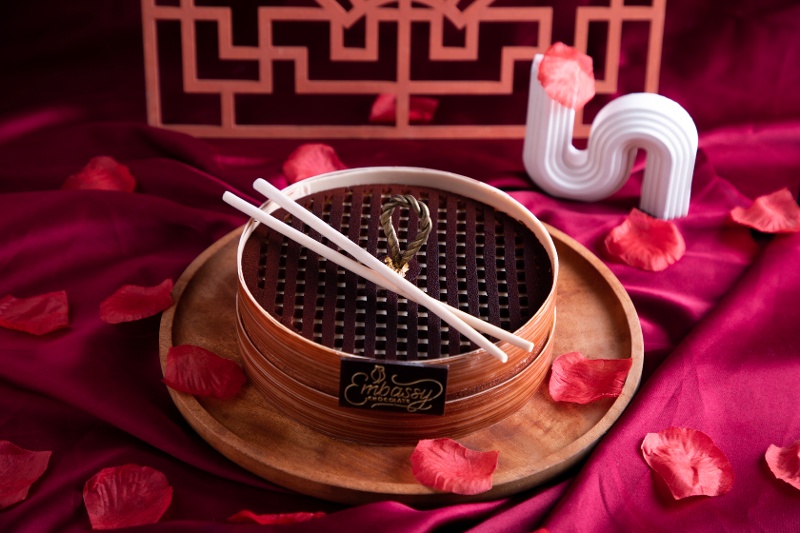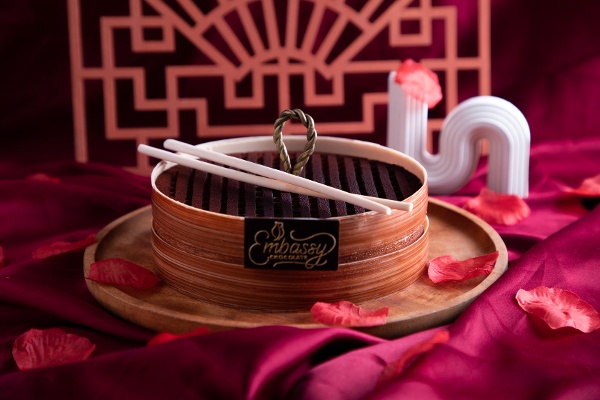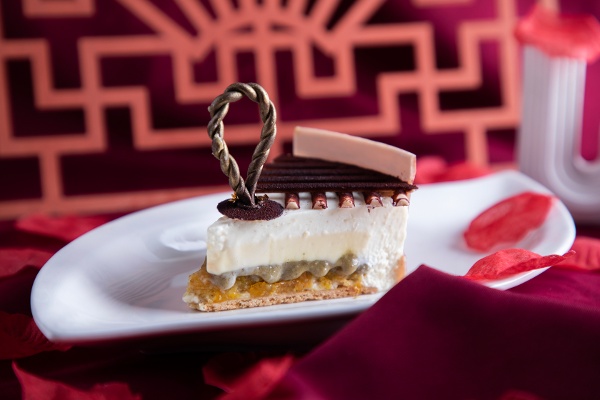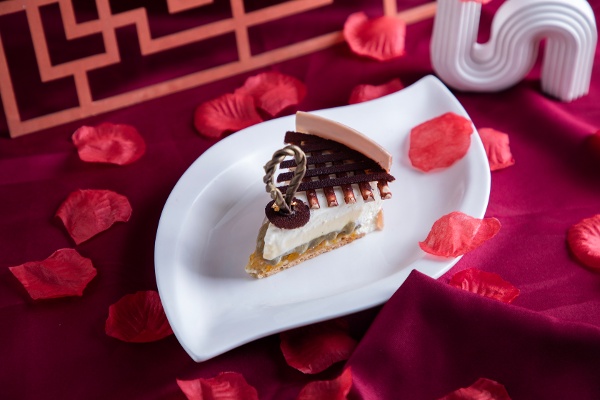 Want to Know More About Our Products?
Click the button below to visit our product page
Go to Product Page