Embassy Recipes
Jasmine Milk Tea Choux
This jasmine milk tea choux redefines the light and fluffy pastry that we fell in love with way back then.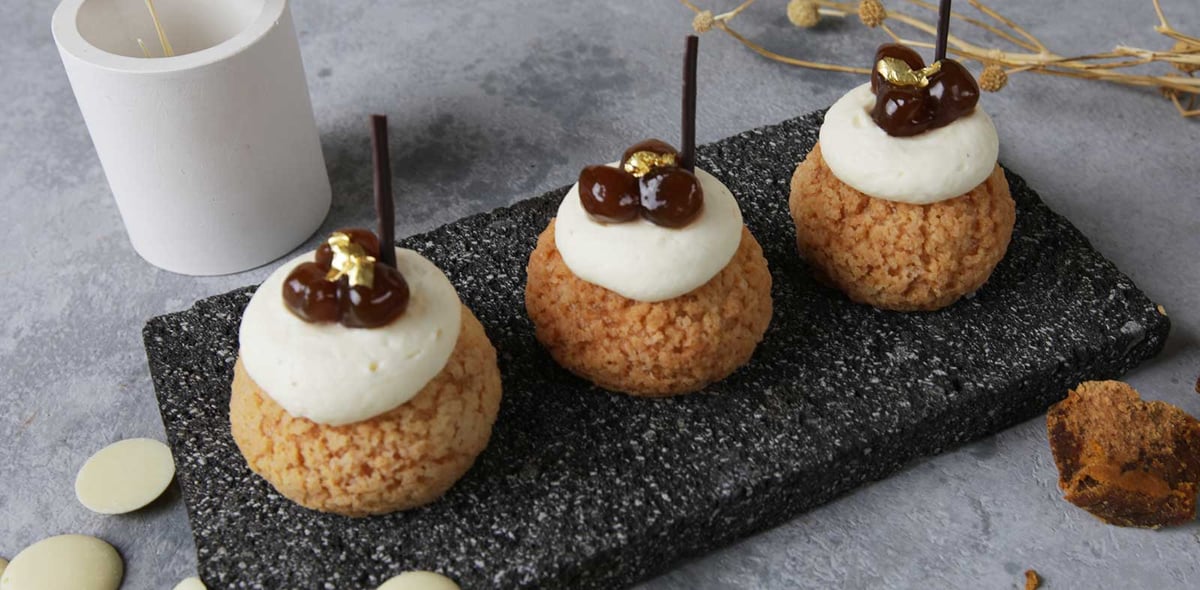 1. Choux Pastry
Ingredients:
Preparation:
- Boil water, milk, butter, and salt together
- Add in the flour. Mix and continue to cook until the flour absorbs all the liquid
- Transfer the batter into a mixing bowl, cool it down with the paddle, and add eggs gradually
- Transfer into a piping bag and pipe it in the desired size

---
2. Craquelin
Ingredients:
Preparation:
- Mix the butter and sugar together until well combined
- Add in the flour and continue to mix until well combined
- Cover and put in the freezer for 15-20 minutes, then roll and cut the dough
- Put the craquelin dough on top of the choux pastry batter
- Bake at 180-185°C for ± 20 minutes or until golden brown


---
3. Jasmine Tea Diplomat Cream
Ingredients:
Preparations:
- Boil the milk and turn off the stove. Add jasmine tea powder, cover and infuse it for 20 minutes, then strain the milk
- Mix egg yolk, a bit of the strained milk, and all dry ingredients together in a bowl
- Heat again the rest of the milk until it simmers. Pour it over the egg mixture and keep stirring, otherwise, it will become scrambled
- Pour the mixture back into the pan and heat it on the stove again. While continuing to stir, put the bloomed gelatin inside
- Pour the hot mixture over the white chocolate and blend with a hand blender until smooth
- Put the mixture in a tray and put it in the fridge for a while to cool down
- Blend the mixture with butter until it is all incorporated
- Lastly, fold the whipped cream into the mixture then put it into a piping bag
---
4. CHANTILLY
Ingredients:
Preparations:
- Heat up the 75 gram cream. Pour onto the white chocolate then directly add glucose and blend using a hand blender until emulsified
- Add melted bloomed gelatin into the chocolate and mix well
- Add 220 gram cold cream and mix until well combined
- Cover the mixture with cling wrap. Note that the cling film needs to touch the surface of the mixture to prevent it from drying out. Rest overnight in the chiller before whipping it
- Whip the mixture before using it to decorate



---
5. Assembly
Preparations:
- Pipe the jasmine tea diplomat cream into the baked choux
- Pipe the chantilly on top of the choux
- Decorate with brown sugar boba, gold leaf and chocolate decoration (optional)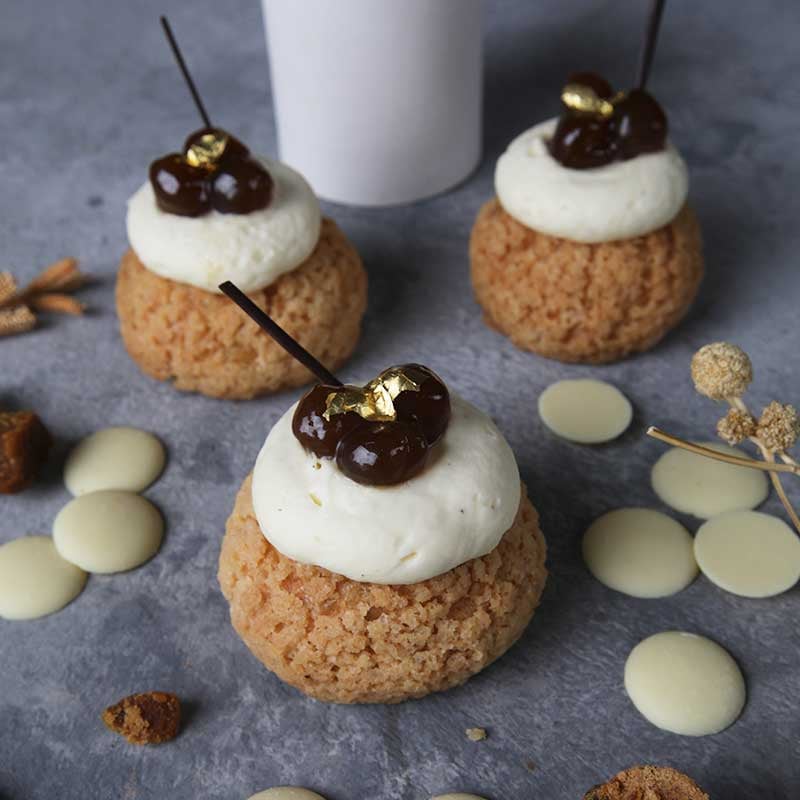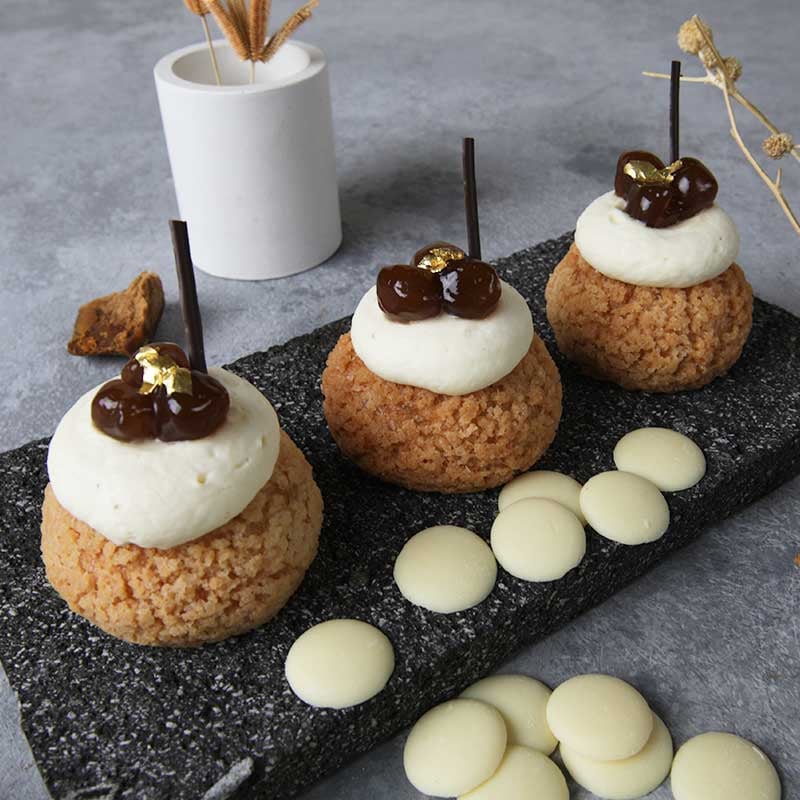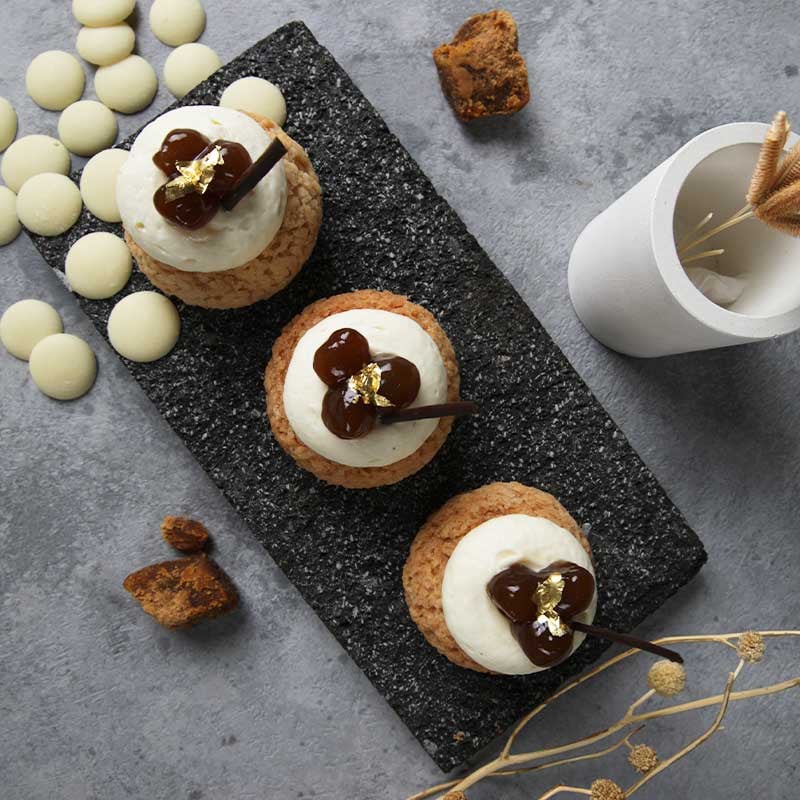 Want to Know More About Our Products?
Click the button below to visit our product page