EMBASSY RECIPES
Coffee Cup
Enjoy this edible cup of coffee down until the last bite. A combination of chocolate, coffee and caramel that is sure to lift your mood.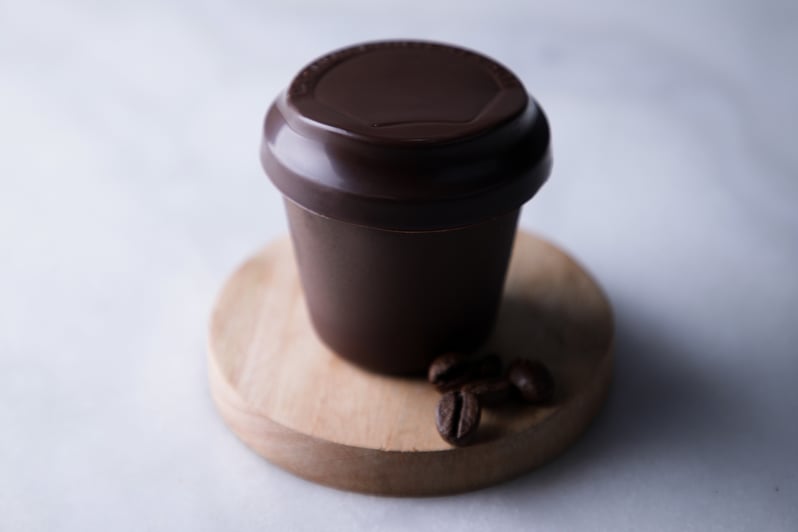 1. Crumble
Ingredients:
Preparation:
- Carefully whip the butter with icing sugar until well incorporated
- Gradually add a mixture of flour and salt, mix well
- Roll out the dough until 2-3 mm thick
- Cut the dough using a cookie cutter of your choice
- Bake at 160ºC for 14-16 minutes or until golden brown. To get a flat surface, cover the dough with baking sheet or silpat when baking
---
2. Cocoa Biscuit
Ingredients:
Preparation:
- Mix egg yolk with whole eggs and sugar in a bowl. Bain-marie the mixture until 35°C and whisk until fluffy
- Whisk the egg whites and icing sugar until soft peak, then fold into the egg yolk mixture gently
- Sift the dry ingredients and add into the mixture in 3 parts
---
3. Liquid Ganache
Ingredients:
- Heat water and glucose, then add cocoa powder
- Pour onto the chocolate and mix with a hand blender until emulsified
- Pour the ganache into a truffle shell
---
4. Coffee Cremeux
Ingredients:
Preparation:
- Bring milk and cream to a boil, then add coffee beans and infuse for ±15 minutes
- Sift the coffee beans, then heat it until warm
- Combine the mixture with egg yolks and sugar, mix well, then cook it again until 83°C
- Add into a mixture of chocolate and melted bloomed gelatin, then emulsify with a hand blender
---
5. White Coffee Mousse
Ingredients:
Preparation:
- Heat the milk, then infuse the coffee for ±15 minutes
- Add the mixture into the melted chocolate, then add melted bloomed gelatin
- Lastly, fold in the whipped cream
---
5. fluid caramel
Ingredients:
Preparation:
- Cook glucose, then add sugar gradually until golden brown
- De-cook the caramel with a mixture of warm cream, milk and salt
- Wait until it cools down to 35°C, then add the butter and mix well


---
6. Assembly
Preparation:
- Mould tempered Embassy Oceanic Blend Dark Couverture Chocolate 65% into a cup-shaped plastic mold
- Put Crumble on the bottom of the cup, then cover with a layer of Cocoa Biscuit
- Add Coffee Cremeux on top, add Liquid Ganache, then cover with White Coffee Mousse
- Add a 2 mm thick layer of Fluid Caramel
- Cover with lid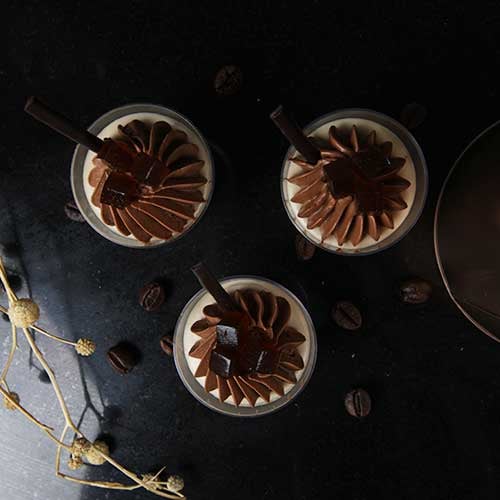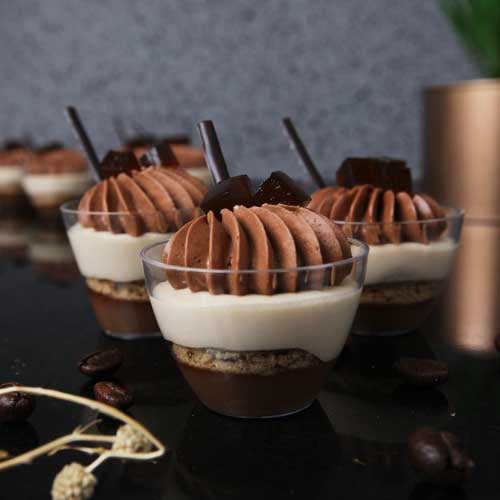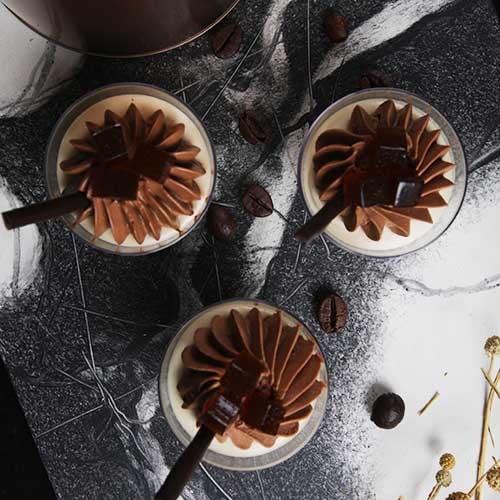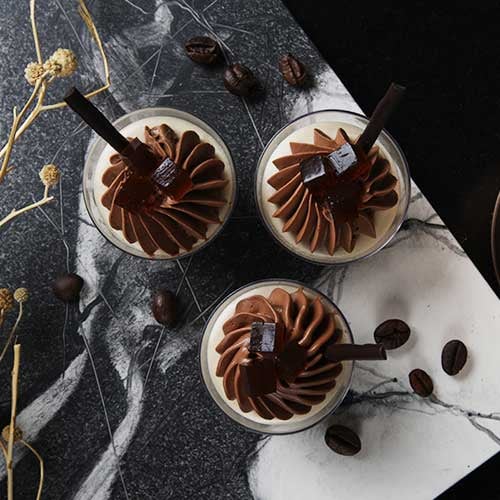 Want to Know More About Our Products?
Click the button below to visit our product page
Go to Product Page